Performance Artist Martha Wilson brings down the House at the ArtTable Luncheon
Channeling Tipper Gore, Martha Wilson delivered the keynote at the May 1st annual luncheon that attracts art luminaries and celebrates professional women in the visual arts. Her bawdy monologue weaving art, politics and body image had most of us in laughter and tears, while some in the room blushed or wiggled in their seats. Friend and colleague Naomi Beckwith, Marilyn and Larry Fields Curator at the Museum of Contemporary Art, Chicago received the New Leadership Award and a touching acceptance by the recipients of the Distinguished Service to the Visual Arts Award – Collectors and Philanthropists Melva Bucksbaum and Raymond Learsy — made the event unlike any previous luncheon.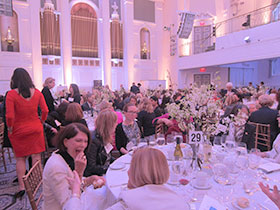 Modern Indian Art at Delhi Art Gallery
India Modern - Narratives from 20th Century Indian Art at Delhi Art Gallery's luxurious new space on 57th Street showcases "the most significant, maverick Indian modernists..." and includes spectacular 60s and early work by M.F. Husain, F.N. Souza, S.H. Raza, Avinash Chandra and Ganesh Pyne. We went for cocktails organized by Karen Stone Talwar who has been active in this field and operates the high-end specialty tour and event company - Adventures in Art. We were delighted to meet Gallery Director, Nei Blumsein and Art Advisor Josheen Oberoi and look forward to working with them soon.
Picasso: Femmes at David Benrimon Fine Art
Think you know Picasso? Curated by Gina Viggiano, who I first met at the Christie's lecture on careers in arts & culture that I give each year, this beautiful show of paintings, drawings and prints drawn from the collection of Marina Picasso "highlights and celebrates some of the women who would inspire Picasso's life's work." Be sure to read Gina's provocative introduction to the exhibition and plan to spend some time marveling once again at the artist you think you know but always surprises.
RECENT PLACEMENTS
Working with the Vito Schnabel organization on a variety of positions, Andrew Ehrenworth whom we had placed previously at Haunch of Venison before its closure now takes up the role of Finance Director for their global art initiatives and gallery in New York.
Sara Nelson is the new Gallery and Personal Assistant at the organization.
We were delighted to place Leon Benrimon as Director of Modern and Contemporary Art, NY at Heritage Auctions. Leon has years of expertise in both secondary and primary market and the connections and savvy to further develop this rapidly-growing division of the auction house.
Etrel Torné is the new Comptroller at Tanya Bonakdar Gallery.
And, Lauren Zanedis joins Phillips as Senior Proposal Writer. In addition, Lauren writes regularly for The Journal of Art Crime and is the Storyteller-in-Chief for the U.S. Department of Arts and Culture, NY.
TALKS AND LECTURES
At the first meeting of the Museum Studies Alumni Association of NYU, Geri Thomas spoke about current opportunities and the skills needed at all stages of one's career in order to thrive in museums and other arts & culture organizations.
On May 1, Geri presented How to Find a Position in Arts & Culture and Remain True to Yourself, at a special seminar at NYU Steinhardt's Visual Arts Administration M.A. Program, along with Keisha Johnson Taffe, Senior Assistant Director, NYU Wasserman Career Center.
For Christie's Education, Geri will be giving her 11th annual lecture on careers in May and is creating a special workshop on art careers by exploring personal values, interests and resources.
See you at the Fairs! Cheers, Geri